Red Rose Needs Cards and the NWF comes to the rescue.
Red Rose was owned by Brooke Bond in England back in the late 50's. Brooke Bond used premiums in the tea boxes quite heavily in England and around the world. They started in England in 1954 with the "British Birds" series. They did over 50 tea card series ending in 1999. It's not a surprise that Red Rose would consider following suit. Being based in Canada and the US, perhaps Red Rose may have considered using the same cards it's parent, Brooke Bond used. But all of the British series issued up to that point were written for a British audiance and several specifically have British titles. Here are the first five British Brooke Bond tea card series...
British Birds - 1954 - 20 cards
Wild Flowers - 1955 - 50 cards
Out Into Space - 1956 - 50 cards
Bird Portraits - 1957 - 50 cards
British Wild Life - 1958 - 50 cards
Red Rose's First Set of Cards.

This left the Red Rose company looking for something a little more local for picture cards and one would think it would have a regional subject. I always wondered if one of the executives might have gotten some stamps from NWF in the mail and wondered if they could be a source. We will never know, but we do know that contact was made with NWF and an agreement struck about using existing images from NWF. This first effort (series) was called Songbirds of North America. This first series was easy to negotiate with NWF. Songbirds of North America, NWF bread and butter. Forty eight images of North American art depicting birds.

NWF Stamps vs. Red Rose's Tea Cards.

A fun fact about the choices for Red Rose cards is the size of the card. Roughly speaking, each card is 1-1/2" x 2-3/4 while most all of the artwork the NWF had was closer to square. What does that mean to Red Rose? It means Red Rose pictures could only include some of the original picture. Here is a 1961 NWF stamp (copywritten in '59) compared to a 1959 Red Rose tea card. The tea card is No 43 and is called the Eastern Bluebird.

This image has been reduced to a thumbnail to save you time in loading it. Click the thumbnail to see the actual full size image. Once the large one has been viewed, click "Back" on your browser to return to this page.

NWF Stamp Vs. Series 1 Tea Card
It's possible the actual artwork is bigger but when we look at the stamp on the left, you can see most, if not all of it. While the tea card is missing part of the story. With the stamp, you can see that the artist signature is D.R.E. and we know that is Donald Richard Eckelberry. By looking at the stamp we see a bird sitting on a post next to some barbed wire. But when we look at the tea card, only a small partial knot of barbed wire is seen and the picture is quite different. Unless you know of the original full artwork, you would probably be unaware of barbed wired in the picture. Kinda like Paul Harvey used to say, with the stamps you get the rest of the story.
Series One Through Four all borrowed from NWF.
The first set of tea cards Red Rose did by working with NWF was a success. It was a matter of picking from the NWF "vault" and deciding on a theme for the cards. So they did it again with Animals of North America as series 2. And again as series 3, Wildflowers of North America. The fourth series again totally relied on the massive collection of art. It was titled Birds of North America. Four series about Birds, Animals and Flowers. At that point, Red Rose wanted to branch out. They had done the sets that aligned with NWF but with series 5 it was a stretch for the National Wildlife mission.
Series Five is different from those before.
Why was series five a stretch? Because Red Rose wanted to do a set on dinosaurs. Little kids love dinosaurs and the the series would be a hit. The trouble was that the NWF didn't have any images of dinosaurs. Dinosaurs are not part of NWF's mission. Red Rose was insistent. They had a comfortable relationship with NWF and everyone agreed that NWF would commission someone for the dino artwork, just like they did on a regular basis for their own mission. NWF had used Jean Day Zallinger previously on some butterfly work, fitting nicely into the NWF message. Then they wound up contacting her husband, Rudolf Zallinger for Red Rose. He was a well known artist who painted dinosaurs. Since no one has ever seen a dinosaur, this was a special talent. NWF commissioned him for for 48 seperate pieces of art. The commission included providing canvases to NWF. Once they had the canvases, it was just like any other project using their art.
Just like previous projects, the squarish art had to be trimmed to the size of a Red Rose tea card. If you look at the images below, on the right you see a squarish artwork. It's the one that became card number 27. On the left is a tea card superimposed over the artwork. As you see, a creature in the background and some trees got cropped out of the card.
| | | |
| --- | --- | --- |
| | | |
| Card #27 | | Original Artwork |
Series Six Through Eleven again take from NWF.
Series 6, Tropical Birds was back to NWF, it was again their bread and butter and they had all kinds of images. Same for Series 7, African Animals, 8, Butterflies of North America, 9 Canadian American Songbirds and Series 11 Trees. All were in line with the NWF story. But series 10, Transportation Through The Ages was another departure. This series had been done by Brooke Bond in England but their version was too British. Want to see a transportation comparison of Brooke Bond to Red Rose? Check it out! As was done with Series 5, Series 10 required a complete set of 48 new pieces of art. One artist was willing to take it all on. His name was Richard Ward. There are a couple of versions of the London Bus. It would be interesting to know if Richard painted them both or just one (and which one).
Series Twelve is Commissioned in Deep Space.
Just kidding about the deep space! Series 12, The Space Age was another topic that NWF had to procure for Red Rose. It's just not a subject that Ranger Rick would talk about. Again, they were lucky to get a single artist, Helmut K. Wimmer, to paint the bunch of them.
Series Thirteen was a Passion of NWF.
Series 13, North American Wildlife in Danger was back to the very core of what NWF means. Telling the story of those species in trouble in our world was part of NWF long before Red Rose asked. This means NWF had all the artwork done up years before. It was just a matter of NWF choosing the wildlife in the most trouble. We all know that Red Rose would not know about endangered species in North America. Chuck Ripper was the biggest contributer to the effort.
Series Fourteen - A Hybrid.
Series 14, Exploring The Ocean is the first example of a hybrid. Up to now we have seen either all of the artwork from the NWF or we need all the artwork from a new commission. This time we have some of each. NWF has lots of sea type art but not like sub salvage and underwater living quarters and classrooms. There were 21 pieces needed for commission and Clare Walton was to paint them all. The remaining 27 existing fish and creatures of the sea were done primarily by Chuck Ripper, with 21 pieces and the remaining 6 pieces of art were split across 4 other artists.
Series Fifteen - Babies of NWF.
Series 15, Animals And Their Young is another all NWF set. Creatures and their babies. If they hadn't commisioned the art before, you know they would have been happy to when Red Rose asked for artwork for this series. Chuck Ripper did the honors for all 48 pieces.
Series Sixteen - Brrrrr.
Series 16, The Arctic is another hybrid set. All the creatures from the cold were already done by NWF but the equipment we use to survive there was a bit off topic for the NWF folks. Two of the three artist involved were for new commissions. It's no surprise that Chuck Ripper had already done 23 of the 48 of the pieces. Clare Walton stepped up again, just like she did with Exploring the Oceans. This time completing 16 artworks.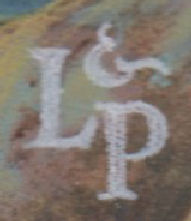 The last of the three is actually a pair of artists. Lazare and Parker were hired to paint for The Arctic. These two artists captured real people from that corner of the world. For a lot of people, these indigenous faces were some of the first seen in a world of anglo faces. They did some truly memeorable work. In my opinion, this is one of the more enjoyable sets. It ranks up there with my favorites, the dinos and space age.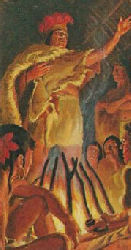 Series Seventeen - Canadian Indians.
Series 17, the last series Red Rose issued, was about Canadian Indians and their lives. For me as a collector of tea cards, this was my first serious exposure to indigenous people and the activities that made up their lives. Lazare & Parker again stepped up and this time they did all 48 pieces for NWF. In looking at the picture to the right, Indians of Canada number 20 in the series, titled "Huron Peace Council", it shows a chief addressing the council. Like the other fourty-seven images, this shows a way of life before the Europeans.

The Needs of Red Rose Understood Now
Looking back at each series, we see that Red Rose initially sought out NWF for the artwork to put on it's cards. NWF had lots to pick from and Red Rose had easy pickings. The process was very successful and as time went on, the needs of Red Rose went beyond what NWF had available for subject matter. It started off using some NWF artwork and some got commissioned. NWF had artists and had commissioned many pieces in the past. It made sense for Red Rose to ask NWF to deal with the artists. As time and subjects changed, entire sets got commissioned as well as the occasional artwork in the albums, along with plenty of original NWF art.
We also learned all about how Red Rose takes a special view on the standard NWF roughly square art and wants a smaller chunk of the picture. This means Red Rose's picture has to be a partial of the original and can only show some of the features. When we see the whole artwork, it is usually a surprise to see what got cut out of the image.

Why Would NWF Do It?
Why would NWF bother with getting Red Rose the pictures for their picture cards? I am sure there was monetary compensation for NWF, just like I am sure the artists were paid. Of course, no one got rich but some form of compensation occured. Additionally, ownership of the new artwork was maintained by NWF. Initially, they may not have cared about these images but at a later point in time they did issue some images in a wall chart or two under Ranger Rick. Clearly Red Rose did not want to mess with all that. After all, their bag was tea.