What Does An "A" Form Do and What Do They Look Like?
Say that again? What I am trying to say is, for the "A" forms, what is their purpose and what do they look like?
The "A" forms were run at the printer and their purpose was to get you more interested in collecting Red Rose tea cards. The cards already come in the tea boxes and coffee and spices and other products. What could make you more invested to collect? Well, there is an album to put them in... but it costs 25 cents. How about our coupon offers the album for free? And we put these free album coupons in the boxes next to the tea cards? So what does this form look like exactly? We know its fancy looking and printed on colorful paper. What if I go a little crazy and make one that's related to Frankenstein's monster?
Yes! That's it!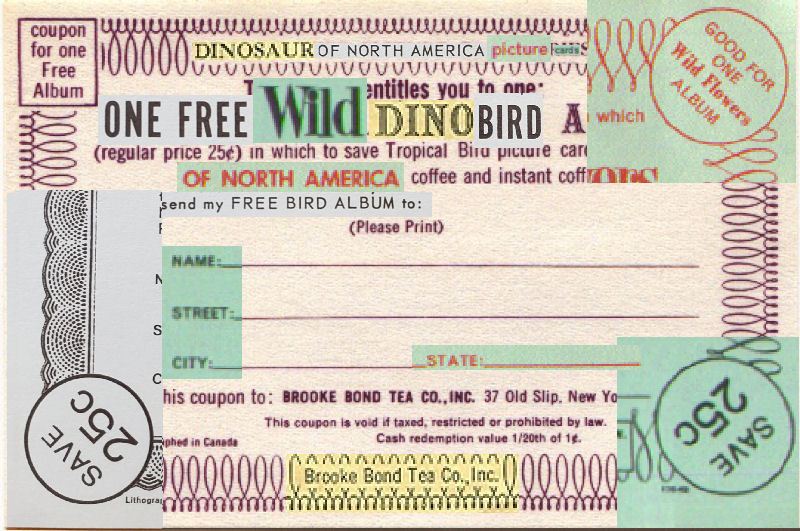 This is my wink at combining bits and bobs of the different forms all together.
So these coupons are from the early series and only appear to be from the US. Unlike some of the other forms, these get you a free album and that's it. No cards, just an album. But at least it's for free.
What is the whole Monopoly thing all about?
If you look at the colors and printing on these forms, you get it. If you've ever played the kids game Monopoly, you recall the money that was used. These forms greatly resemble the Monopoly Money. So they get the nickname.
What do these brightly colored forms offer you? What are we looking to get from the Red Rose Store?
Well these forms are a bit limited compared to all the others. All you can get is an album for the next series. But at least it's for free. Now we understand what can be gotten for postage to send the form to Brooke Bond. What else is there to know about these forms? We are ready to start collecting and need to know the ins and outs.
Fun facts about the Monopoly "A" Mail In forms...
There are no Canadian forms, only US ones.

They are one sided.
Supply your name and address and get an album in the mail.
Text is English only.

All of the forms for the different series are the same size.
All of the forms have the same form number, 170-62.
How were the forms used?
So you fill out the form, buy a stamp and mail it off the Picture Card Department. They package up your album and send it out. It seems to be standard protocol to send back the form with the order. As long as it's legible, they use it for a mailing label. How cool is that?
Stats On Type "A" Completion Coupons

| Series # | Series Name | Form # | Ink Color | Form Color | Dimensions | Pic |
| --- | --- | --- | --- | --- | --- | --- |
| 3 | Wild Flowers of North America | 170-62 | Red Ink | Light Green | 4-1/4" W x 2-13/16" H | |
| 3 | Wild Flowers of North America | 170-62 | Green Ink | Green | 4-1/4" W x 2-13/16" H | |
| 4 | Birds of North America | 170-62 | Black Ink | Blue | 4-1/4" W x 2-13/16" H | |
| 5 | Dinosaurs | 170-62 | Black Ink | Yellow | 4-1/4" W x 2-13/16" H | |
| 6 | Tropical Birds | 170-62 | Purple Ink | White | 4-1/4" W x 2-13/16" H | |
| 8 | Butterflies of North America | 170-62 | ?? Ink | ?? | 4-1/4" W x 2-13/16" H | |
As we said, these forms only existed in the US. To date, nothing any earlier than series 3 nor later than series 8.
Last modified: March 21, 2021