Again, Thanks go out to Les Batten. The last card is identified! He revisited the past to find a present day answer. Very Zen!

The number 8 card in the Salada series looks like this.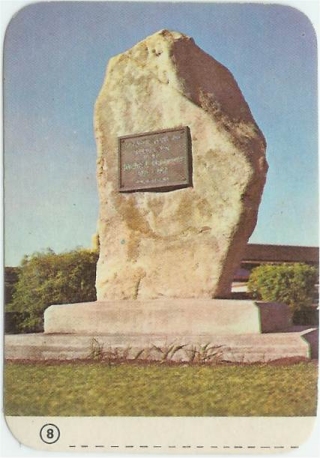 Certainly the shape of the rock should help. What the heck is written on the plaque?

Les tells me:

I've had no luck in searching present day descriptions or photos for confirmation that the site still exists today. Further adventures into the past have revealed the following. The stone marker and plaque were originally erected in Calgary, Alberta during 1917 to commemorate the original site of the North West Mounted Police (forerunner to the RCMP) barracks. It seems, however, that the chosen site may have been incorrect. Based upon newly discovered archeological evidence the stone was moved to a different site in the same city, rededicated and provided with a concrete base in 1947. In 1974, the city of Calgary began a reconstruction of the original "Fort Calgary" which included the site of the N.W.M.P. barracks. I believe that the rebuilt barracks, on the original site, made the inclusion of a marker redundant and it may have been removed.

The attached photos are:

A - 1917 dedication. Note the stone has no base, it is simply dug into the ground.

B - Close-up  of the stone.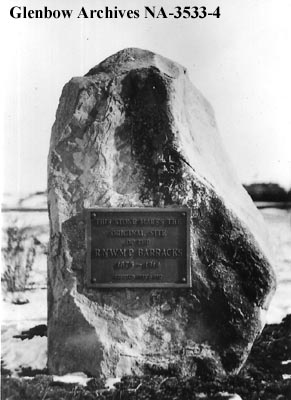 C - 1947 rededication. Note the new concrete base.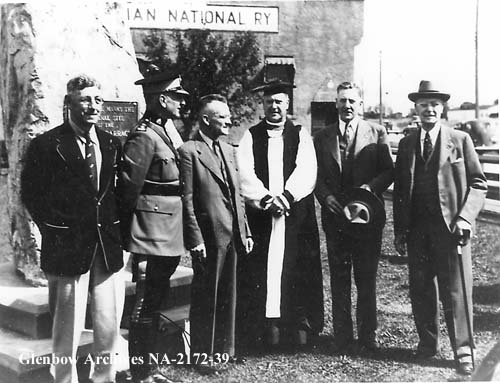 D - 1974 ground-breaking ceremony for the reconstruction of "Fort Calgary".
E - Text of the plaque.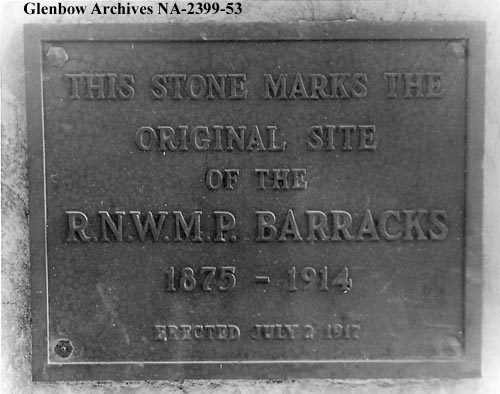 Good job Les! There is no room for doubt. Thanks for going above and beyond!