What are the Cat Variations?
Let's cut to the chase, there is only the one issue. There are no variations. I can say that the first 16 represent domestic cats whilst the last 16 represent wild cats. They are the smallest of the Tuckfield issues at 1 3/8" x 2 1/4". It also looks more like the wild flowers back than any other. Anyway, here is what your card looks like.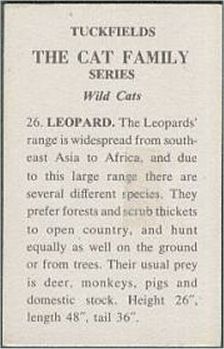 Terry designates the 32 cat family card issue as a type 2C.
Yes, an album was issued for cats. It holds all 32 cards. It is titled "Tuckfields Cats And Their Care". So what does it look like? What a great question. Clearly we need to add a pic of the album here...