F. Lamberts is primarily known as British tea merchants, tobacconists and confectioners. We are interested in issues of tea cards. This set was issued with Lambert & Son's tea in 1962 and contains color drawings of different types of cacti with guidance on how to grow them, country of origin, details of flowers etc. on the numbered backs. This set was also issued by Amalgamated Tobacco in 1961 and as an anonymous issue in 1965. There are so many different varieties of the plant available and this set certainly does them all justice. Cards size 68 x 36mm. The series consisted of 25 cards and was issued in 1962. Since the product was primarily loose tea, it is not known how the cards were distributed to the customers. Tea tins have survived but I am unaware of any boxes like we would find on the bagged teas. If you know how they distributed the tea cards, please reach out and let me know so we all can know.

In other cases we can collect an album, coupons, ads and more. In this case, I have yet to find any of that for this series although albums exist for other Lambert series. If you have pics showing any of the above, please reach out and we will post it here. Until then, we have to assume that all we have to collect are the cards and perhaps an album or maybe a tin.


---
What do the cards look like?
Here are all 25 of the cards in the set. They individually measure 36 x 68 mm. The card number and the name of each cactus is indicated on the card back along with the details of the item. At the bottom of the cards it says that it is "Issued with T.V.T. B.O.P. Special & Blue Blends Ceylon & Fen Blends". It finishes with Lamberts Of Norwich. The cards are written in English only. You might be curious what "B. O. P." means. Me too. I saw on a wrapper that it stands for Broken, Orange, and Pekoe. Still not resolved in your mind? Mine either.
---
Do you have a picture of the album?
I'm afraid I have no images of an album but I still believe they exist. Why? Because I have seen Lambert albums for two of the other series. For now, we await someone to grace us with a picture.
---
I wonder what the box looks like?
We all wonder... because the tea was (mostly) sold loose. I have seen tins, like the one shown below, but no boxes. Make sure you check out the inside lid. You can tell this held the loose stuff.
This image has been reduced to a thumbnail to save you time in loading it. Click the thumbnail to see the actual full size image. Once the large one has been viewed, click "Back" on your browser to return to this page.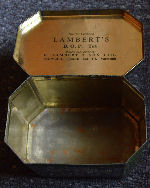 Tea Tin
---
Cacti Card Checklist
Need to know the titles of all 25 cards? No problem! Here they are in a neat sortable list. There is a scan of each, just click the links to the card pictures. Enjoy!
This set and the rest of the Lamberts are simple to collect in that you go for the cards and maybe an album... and a tin if you wish. There is nothing else that I am aware of to collect.