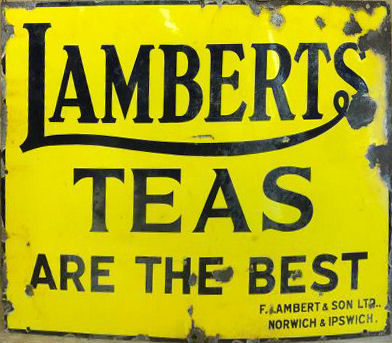 F. Lambert and Sons was known for their Teas (they are the best!) and were called tea merchants, tobacconists and confectioners. From the the late fifties to sixties they were inspired to be a company that issued tea cards as premiums. They issued many sets (fifteen) and they were all sets of twenty-five cards. Lamberts had several shops that focused on all kinds of stuff, including tea. When they did sell tea, it appears they sold loose tea. That means I don't know how they distributed the cards to the customers. If anyone can fill in the blanks please reach out.
This neat enamel sign shows off Lambert's signature saying, "Lamberts Teas Are The Best." It's a bit worn but it's a great saying and how better to display pride for Lamberts. It is believed this sign was made back in the 1940's.
I have been unable to find out very much about F. Lambert and Son Ltd, but know they operated from both Norwich and Ipswich. I know, it's right there on the sign ;-).
Lamberts is known as an England based tea company as all of the issues were done in England, but collectors in the US, Canada and Australia are still interested.