Past and Present Tea Cards

F. Lamberts is primarily known as British tea merchants, tobacconists and confectioners. We are interested in issues of tea cards. This set was issued with Lambert & Son's tea in 1964. It is an attractive set split into two views containing color pictures of both ancient and modern scenes that are mostly transport orientated. The subjects contained within the set include:- Locomotives, London Bridge, Hand-Gun, Policemen, Barometer, Motor Car, Electricity, Trains, Watches, Pressure Cooker, Excavator, Racing Car, Radio, Lifeboats, Gramophone, Spinning, Fighter Plane, The Underground, Caravans, Baths, Airship, Camera, Warship, Lock & Key, finishing with Lamp. The back side has plenty of supporting information making this a fun set for any collection.

The series consisted of 25 cards and was issued in 1964. Card size is 68 x 36mm. Since the product was primarily loose tea, it is not known how the cards were distributed to the customers. Tea tins have survived but I am unaware of any boxes like we would find on the bagged teas. If you know how they distributed the tea cards, please reach out and let me know so we all can know.

In other cases we can collect an album, coupons, ads and more. In this case, I have yet to find any of that for this series although albums exist for other Lambert series. If you have pics showing any of the above, please reach out and we will post it here. Until then, we have to assume that all we have to collect are the cards and perhaps an album or maybe a tin.


---
What do the cards look like?
Here are the 25 cards of the set. They individually measure 36 x 68 mm. The card number and the name of each thing to compare is indicated on the card back along with the details of the comparison. At the bottom of the cards it says that it is "Issued with T.V.T. B.O.P. Special & Blue Blends Ceylon & Fen Blends". It finishes with Lamberts Of Norwich, Tea Specialists. The cards are written in English only. You might be curious what "B. O. P." means. Me too. I saw on a wrapper that it stands for Broken, Orange, and Pekoe. Still not resolved in your mind? Mine either.
---
Do you have a picture of the album?
I'm afraid I have no images of an album but I still believe they exist. Why? Because I have seen Lambert albums for two of the other series. For now, we await someone to grace us with a picture.
---
I wonder what the box looks like?
We all wonder... because the tea was (mostly) sold loose. I have seen tins, like the one shown below, but no boxes. Make sure you check out the inside lid. You can tell this held the loose stuff.
This image has been reduced to a thumbnail to save you time in loading it. Click the thumbnail to see the actual full size image. Once the large one has been viewed, click "Back" on your browser to return to this page.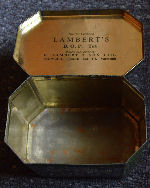 Tea Tin
---
Past and Present Card Checklist
Need to know the titles of all 25 cards? No problem! Here they are in a neat sortable list. There is a scan of each as well, just click the links to the card pictures. Enjoy!
This set and the rest of the Lamberts are simple to collect in that you go for the cards and maybe an album... and a tin if you wish. There is nothing else that I am aware to collect.
Past and Present - Cards Issued

| Card Number | Card Description | Past | Present |
| --- | --- | --- | --- |
| 1 | Locomotives | The Rocket | Settebello |
| 2 | London Bridge | 1209 Bridge | 1831 Bridge |
| 3 | Hand-Gun | Wheel-Lock Pistol | Walther P-38 |
| 4 | Policemen | Bow Street Runners | Regular Police Force |
| 5 | Barometer | Portable 1695 Barometer | Aneroid Barometer |
| 6 | Motor Car | Montagu Museum Car | B.R.M. Turbine |
| 7 | Electricity | Electric Lamp | Giant Turbines |
| 8 | Trains | Flying Scotsman | Electric Locomotive |
| 9 | Watches | Anne Boleyn's Watch | Gold-Plated Watch |
| 10 | Pressure Cooker | Bone Digester | Modern Pressure Cooker |
| 11 | Excavator | Manual Shovel Dig | Modern Excavator |
| 12 | Racing Car | 1908 Hutton | Modern B.R.M. Racer |
| 13 | Radio | Cats Whisker Set | Modern VHF Radio |
| 14 | Lifeboats | Early Lifeboat | Up-To-Date Lifeboat |
| 15 | Gramophone | 1888 Edison Phonograph | Stereophonic Record Player |
| 16 | Spinning | Spinning Jenny | Ring Frame |
| 17 | Fighter Plane | British D.H.9 | Hawker P.1127 |
| 18 | The Underground | Early Tube Train | Modern Train |
| 19 | Caravans | Gypsy Caravan | Modern Caravan |
| 20 | Baths | Plunge and Spray Bath | Modern Bath |
| 21 | Airship | Giffard's Airship | Bournemouth |
| 22 | Camera | Daguerre Camera | Polaroid Camera |
| 23 | Warship | Popoffka Novgorod | Light Cruiser |
| 24 | Lock And Key | Egyptian Lock | Mechanical Lock |
| 25 | Lamp | Argand Oil Lamp | Rushlight Clip |