There Were Three Versions of the First Issue of Cards From Red Rose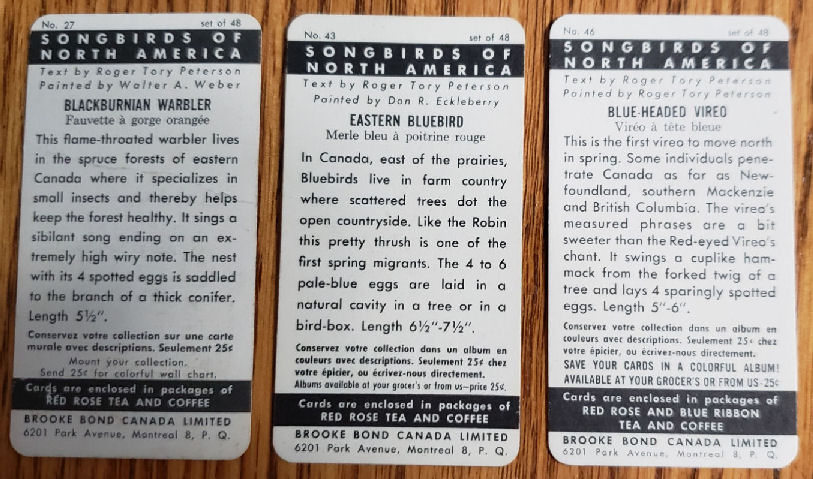 Sometimes when something new is getting set up and designed, last minute and unexpected changes can happen. This seems evident with Red Rose and their first series of tea cards. That series was Song Birds of North America. Of course we know that Red Rose only offered the first series in Canada (not the US) and there are three variations of that first series of tea cards.

The three versions of cards have sections on the back stating:
Mount your collection. Send .25¢ for colorful wall chart.
Albums available at your grocer's or from us - price .25¢
SAVE YOUR CARDS IN A COLORFUL ALBUM! AVAILABLE AT YOUR GROCER'S OR FROM US - .25¢
One thing we don't know is what order the different versions were offered in, whether they were offered at the same time or if they were staggered over time.

When you just look at the three variations of cards, nothing emerges to answer if there is any order to the variations.

The first suggests you place your cards on a wall chart, then the next brags of albums at the grocer or at Red Rose. The last says to save your cards in an album and get those albums at the grocer or Red Rose.

I have always been confused by the first variation. It says you can mount your collection. Then it says to buy a colorful wall chart. Are you supposed to mount the cards on your wall chart? I believe that was the message. To go a step further, let's see what the French above the message says. It translates as "Keep your collection on a wall map with descriptions. Only 25¢" This seems like a clear call to paste your cards on that wall chart.
This leads me to believe it was the first variation to appear in the tea. I don't believe the album was originally planned. In my world they start with just a wall chart and cards but latter decide that the wall chart be left as a wall chart and the album was developed. Since the cards about mounting on the wall charts had already been printed and distributed, something had to be done to change course. A second set was printed, perhaps the one yelling "SAVE YOUR CARDS IN A COLORFUL ALBUM...". I know I have no proof to support my theory... or do I?
Let's say I was right and they started with wall charts, perhaps figured they were too expensive, and then switched to albums. Maybe they figured albums with extra facts appealed more to young collectors. Perhaps the cards didn't stick well to the shiny wall charts.
What about proof that Red Rose changed their minds?
There is a really unusual album insert that I have only seen twice in my over 30 years of collecting. Just recently on eBay in mid December '21 a series 1 Songbirds album showed up. It was the matte finish kind with the Brooke Bond Canada Limited Red Rose marks on the back.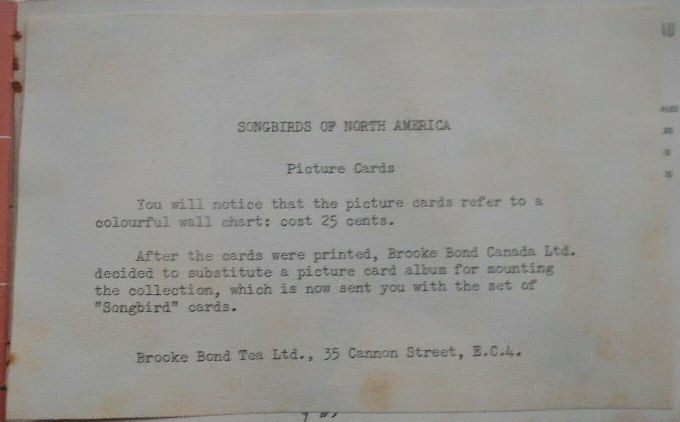 The album was empty but not in great shape. The staples were rusty and there was water damage throughout. But the most interesting thing about the auction was an insert in the album that was a typewritten form from Red Rose (Brooke Bond Canada) stating that they are making a change. A change? What does it say? It tells you that the tea cards say to get a wall chart for .25¢. After these cards were printed Red Rose decided to substitute an album for a wall chart for mounting your collection. Hmmm, this seems like just what I was saying.
I'm not the only one who saw the significance of this album. Several folks fought for it on eBay and the winner spent $90 plus another $30 to ship the prize home. Not bad for an album and insert in poor condition.
You know I said I've seen two of these albums with the prize insert inside. I've described the one on eBay... the other is mine. It's in much better shape and for sale at a bargain price. Check it out (four items down on the list). I only have one and there are very few left in the world.
What does this form prove?
So what does this newly identified collectable mean? This form in the album means a couple of things. First, it is a new rare thing to collect. A fourth version of the albums that are very clearly the first albums to have been issued for series 1 and hard to collect. It also proves that the "Mount Your Collection..." cards of the first series are actually the first version issued.
How cool is that!?
---
Last modified: January 4, 2022