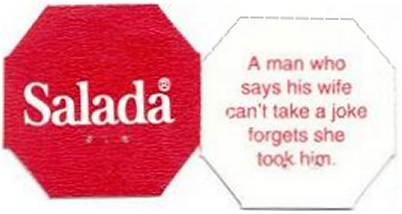 Salada started in the 1920's. The thing I remember about Salada is that at the end of every string they had a cute little saying on the paper tag.
There was a great history on Salada at the Redco green tea site but they took it down.
Yup, I said Redco. The people who put out the Red Rose tea in the US acquired Salada Foods in June 1988 in both the US and Canada. You knew that right? Because you read the history page on this site right? I thought so.