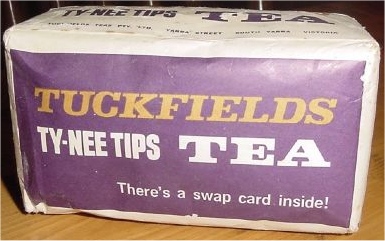 If you look "down under" for your tea card collecting pleasure, you will find a great tea company called Tuckfields. Of course, I mean Australia, home of the kangaroo and a great buncha mates.
In 1988, J. Lyons & Co. bought the Tuckfield tea business from Cadbury Schweppes and formed Lyons Tetley Australia. You'd think that it was the end of Tuckfields Tea and the wonderful card series.... but that would have been wrong... at least half wrong. Tuckfields continued to put out the tea and cards but sadly, in August of 2008, the tea kept coming but the cards stopped. Sue Walter from down under continues to help me set the record straight. I had seen the Tuckfield name drop off the cards and albums and just assumed that Tuckfield Tea went the way of the dodo bird. I figured Lyons liked the cards but dumped the Tuckfield name... Wrong! Just like I had hoped they would make the cards forever... Wrong, again!
Although this magnificent series and it's many variations is no longer issued, it is still one of the best ones to collect because the cards are so prevalent. Of course completing all the various sets could take a few life times, but it's the thrill of the hunt, right?
Thanks to Sue Walter again for a 2006 picture of a Tuckfield Tea box top.

Like it says on the box, "A Picture Card in Every Pack". Sue says 'The current (2007) packs of Tuckfields loose leaf tea do mention the word Tetley (in tiny print on one of the end flaps is "Ty-nee Tips is a Registered Trade Mark of Tetley Australia Pty, Ltd.".'
My friend Terry Calleyne has done a lot of research regarding the issues and is sharing his considerable knowledge on the subject. So click on through to the next few pages and we'll get to swapping those cards!